Are you eager to give your bathroom a fresh look without breaking the bank? You're in the right place! In this article, we'll explore some trendy bathroom remodeling ideas that won't drain your wallet. Whether you have a small bathroom or a spacious one, these budget-friendly tips will help you achieve a stunning makeover.
When it comes to bathroom remodeling, you don't always have to embark on a full-scale renovation to create a noticeable change. In fact, some of the most impactful transformations can be achieved with strategic updates and a dash of creativity. Let's dive into some cost-effective bathroom remodeling ideas that can make a big difference in your space.
1. Paint and Refresh:
One of the easiest and most cost-effective ways to refresh your bathroom is with a new coat of paint. Choose light, soothing colors to create a spa-like atmosphere.
Consider painting your bathroom vanity or cabinets for a fresh look. A trendy color can breathe new life into an outdated vanity.
2. Update Fixtures:
Swapping out old, worn-out fixtures like faucets, showerheads, and towel bars can instantly modernize your bathroom.
Opt for brushed gold or matte black finishes, which are both trendy and timeless.
3. Focus on Lighting:
Improved lighting can make a significant impact. Replace old fixtures with energy-efficient LED lights or stylish pendant lights.
Consider adding a backlit mirror for a contemporary touch.
4. DIY Vanity Upgrade:
If your budget allows, consider upgrading your vanity. However, you don't need to replace the entire unit. New countertops and a fresh sink can give your vanity a facelift without breaking the bank.
Apply a coat of paint or stain to the vanity base for a cohesive look.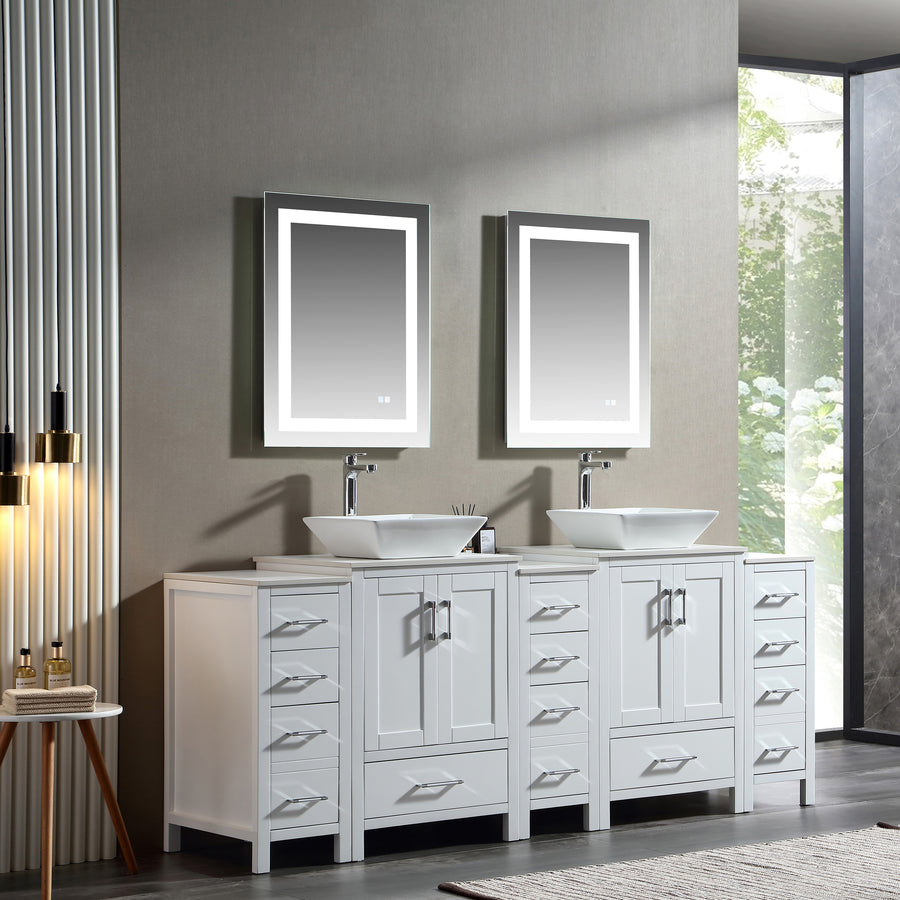 5. Decorative Details:
Add inexpensive decorative elements like framed artwork, decorative mirrors, or new cabinet hardware to personalize your space.
A stylish shower curtain and coordinating bath mats can tie the whole room together.
6. Grout and Tile Refresh:
If your bathroom has tile, consider regrouting or replacing damaged tiles. A fresh, clean look can make the entire space feel new.
For a budget-friendly option, use peel-and-stick tile decals to update the look of your bathroom floor or wall tiles.
7. Energy-Efficient Upgrades:
Installing a low-flow toilet or faucet can save you money on water bills in the long run.
Consider a tankless water heater for both energy efficiency and space savings.
8. Declutter and Organize:
Sometimes, a bathroom transformation is less about what you add and more about what you remove. Declutter your bathroom by organizing your toiletries and clearing out unnecessary items.
Invest in stylish storage solutions like floating shelves or baskets to keep your bathroom organized and tidy.
9. Accessorize Thoughtfully:
Don't overlook the power of well-chosen accessories. A new set of towels, a chic soap dispenser, or a trendy rug can elevate the overall look of your bathroom.
Incorporate plants or succulents for a touch of natural beauty.
10. Think Green: - Opt for eco-friendly options, such as low-VOC paint, water-saving fixtures, and sustainable materials. Not only will these choices save you money over time, but they'll also reduce your environmental footprint.
In conclusion, you don't need to spend a fortune to breathe new life into your bathroom. With a strategic approach and these budget-friendly remodeling ideas, you can create a refreshed, stylish, and inviting space that suits your taste and budget. Whether you're aiming for a small update or a complete makeover, these tips will help you transform your bathroom into a haven of relaxation and style.